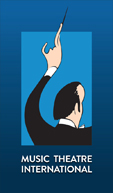 You are now being transferred to the MTI Europe website
We are now working in partnership with our longtime colleagues and friends at Music Theatre International, whose catalogue of musicals we have represented in the UK and Europe for thirty-five years, as Music Theatre International (Europe), based at our London office.
Our personnel, and process of licensing our shows remain the same. We'll continue to offer to all of our producers, theatres, amateur and youth theatre companies and schools the same classic and contemporary musicals, the best new releases and the service that you have come to expect of us. All that will change is that MTI (Europe) will grant licences for its own musicals and its catalogue of shows will move to a new website at www.mtishows.co.uk.
Please click on this link to www.mtishows.co.uk if you are not automatically redirected after 10 seconds. In future, please visit the Music Theatre International (Europe) website to browse our catalogue.